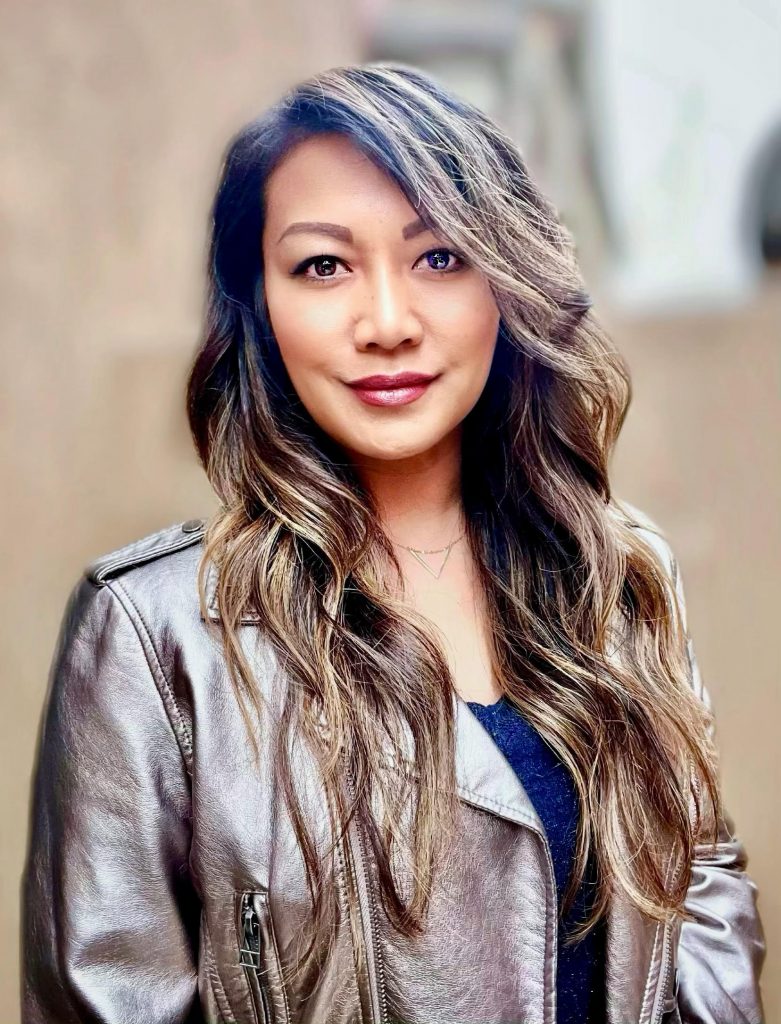 Catching up with Cat…
[make sure you get to the GIVEAWAY at the end + watch her on Looking Good with Daniella & T. Coffee, ep6 – on ezway.tv and www.lookinggoodwithdaniellaandtcoffee.com]

Cat Oshman has designed thousands of swimwear styles for women of all ages, from super sexy to more conservative. Throughout her journey as a designer for 25+ years, she has traveled the globe for inspiration, spoken with countless women, buyers for major retailers and specialty shops, engaged in focus groups and spent countless hours trying on swimwear to find out what works and doesn't work.
If you have ever been to a beach or pool, you likely have seen her designs on brands like BCBG, Nautica, Tahari, Caribbean Joe, Stella Parker Swim, the list goes one.

In your words, you said:
"Shopping for swimwear can be as scary as public speaking. It's one of people's biggest fears. Imagine, half naked in public. Designing swimwear is a beautiful art that marries creativity with technical expertise. It's taking a small piece of fabric and making it go to work!"
What sparked your love for fashion especially with designing women's swimwear?
Growing up, I've always loved art and because my Mom was in the textile industry, I spent a lot of my afternoons in that environment. I learned how to sew in the 7th grade and embraced wanting to create something different for myself, especially with not growing up with a lot of money to buy the latest trends…and it was more fun to make it! I used to stay up all night finishing a garment just to wear to school the next day.
I fell into swimwear. My design portfolio reflected the type of clothing I wanted to design…it was music inspired with metallics, patent leather, fish net. In fact, some of the models in my portfolio were wearing hand cuffs…..it definitely stopped people in their tracks during an interview for a job.
I landed a job with one of the big swimwear companies that specialized anywhere from competitive swimwear to fashion. Definitely a great way to start my career. I fell in love with women's swim and stayed ever since.
When I started my career, I never realized how being around tall beautiful models would test my self-esteem. I'm petite….much shorter than the models and most of my colleagues. I have a little joke that I'm the perfect height for fittings with models because I'm at eye level with their chest.
What is your favorite part about designing swimwear and what inspires you – you mentioned, you see your pieces worn around the world?
When I meet women, they have a tendency to point out all the reasons they can't or don't like to wear a swimsuit. It more often than not, turns into a therapy session. I love to create. I design with a lot of different women in mind. It's a challenge for me to give her fashion but address her needs.
My favorite part of what I do is empowering women to feel confident in her style. I love traveling the world, getting inspired, photo shoots and it's always wonderful to see women wearing my designs. Wearing my design means you're taking a piece of my art with you for pool time or away on an awesome vacation to build memories that can last a lifetime
What are the most important factors to look for when shopping for swimwear?
Color will attract you first when it's on a rack or display. Next will be the style. You want to look for something that you can feel comfortable and confident in.
Feel and stretch the fabric in the swimsuit. All fabrics stretch differently.
Think about adjustability and support. Does it have an under wire? Are there removable cups? Removable cups can shift while you're wearing it so it's important to adjust them when putting on your suit.
Coverage….how much coverage do you want and keep in mind that your suit will feel heavier when wet.
You want something that's going to fit your body well while it's dry.
Busy prints create a camouflage effect on your body. It's a great minimizer.
Color and print can be mood boosters so find something that's going to bring you joy!
Walk us through some trends in swimwear and any of your favorite looks.
I love color!
Wearing monochrome outfits looks so fresh.
Off the shoulders continue to be one of my favorites. It's fun, flirty and hides that back arm action. It's great for women with a smaller or bigger bust.
I love bling….so a fun sparkly coverup is great from day to night.
Minimalist type styles are in, along with hi-waist bottoms and poof sleeves in different variations.
Poof sleeve tops take a swim top to the next level. You can pair it with hi waist bottoms, jeans or a skirt for that extra fashionable vibe.
A lot of us have been home, not traveling or going too many places, how do we get into the mindset of putting on a swimsuit.
I say, let's lift up your mood and transition into the mindset to get out again. What I love about a great cover-up is that it's a perfect gateway to inch our way back to getting out. The weather will start warming up even more and vitamin D, the outdoors does wonders for mood boosters.
My mission is to empower and boost people's confidence so that they can feel better about what they see from the inside out. Don't let the negative self-talk hold you back from having some fun. Get out there, splash around and make waves!
How can people find you, Cat?
@catoshman/
www.catoshman.com
What's next for you?
I am launching a crowd-funding campaign so that I can build a sustainable foundation that will provide resources to empower women to become bolder believers in who they are. Some of the advantages of women in charge of her beauty is a huge spike in her self-esteem. When a woman feels better about herself, often her relationships with her husband, family, friends and associates grow stronger. She taps into her power to make bolder moves in her personal and professional life.

GIVEAWAY.…
I will raffle off $200+ worth of resortwear coverups
How to enter?
Write any post or screen shot with the the words Looking Good
Tag @lookinggoodyaya @catoshman @teranceantonio
Yes, Cat will be raffling off $200+worth of resortwear coverups

Be Fabulous!

Support the Show Monthly — sign up to keep in touch and also contribute to monthly
content

FOLLOW THE SHOW + SHOP OUR PATRONS — OUR GUESTS LEFT INCREDIBLE OFFERS
www.LookingGoodwithDaniellaandTcoffee.com