We caught up with Lindsay to talk about fashion and it's impact on self-image.
By Daniella Platt
Lindsay Rae wants to give women permission to feel beautiful exactly as they are. As a photographer, Lindsay has photographed over 600 women, most of whom struggle with body image and these women have stripped down for private sessions. More than ever, Lindsay is hearing the term "covid 15" referring to the negative impact of the quarantine on weight gain and body image.
Stemming from a background of trauma and abuse, it took Lindsay years to find self-worth. Through a healing journey, she learned invaluable lessons on how to truly find peace with yourself.
Lindsay, why are we having a conversation about fashion and body image?
As women, we compare ourselves to the most is the younger versions of ourselves so whereas we're not just fighting against an entertainment industry, a fashion industry, the makeup industry, we're also fighting against ageism and our own ideals and struggles.
I want to help women realize your body is beautiful at every step in the journey, whether you're a zero or a size 20.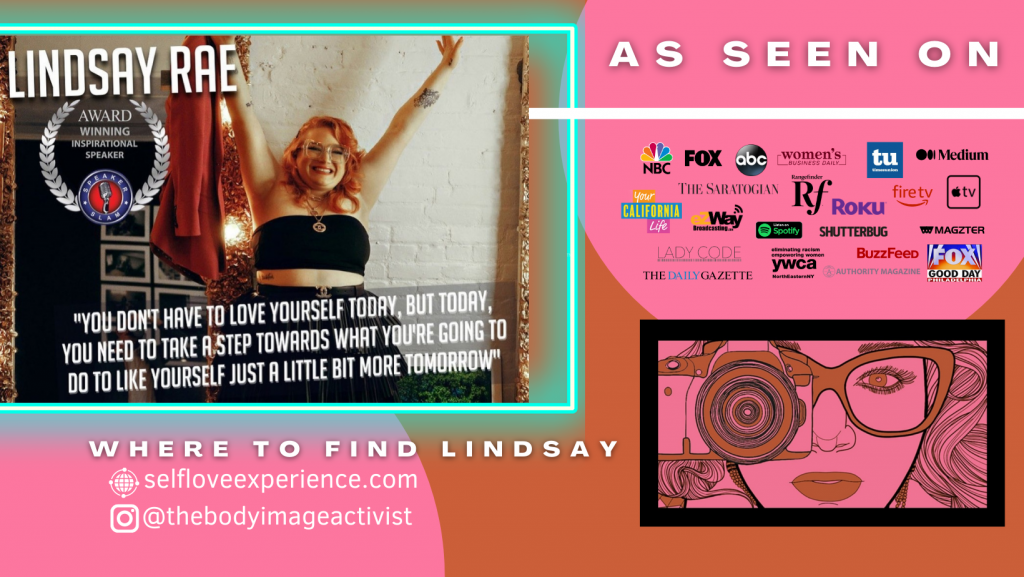 How are you stepping into your power and going to change the world?
We're going to raise the generation that's going to change the world because women are stepping into their power in a way that we're impacting our children to be kinder individuals.
When you feel good about yourself, you move through the world with more kindness and love, compassion and empathy.
I believe people come in all shapes of fabulous, in fact, I write about body inclusivity in my book. Being every size and shape myself, I can empathsize. What message do you have for brands and women for plus-sizes?
I recommend the brand ELOQUII to plus-sized women like myself.
I want brands to hear this: If brands veered off into more diverse body types, I have money to spend on it if you make it my size.
"Fashion is my weapon" is tattood on your arm. Why?
That means, the way you dress is the armor that you put on to attack the world. Necklaces, scarves, pieces you wear are your weapons, and the elements that make you an individual, they make you stand out, and you take them to battle.
They're my confidence. Everybody's got that thing. What's yours?
Why is shifting body image your mission?
What people don't understand is that in the movies and in photography, the subjects don't have flawless skin. The camera operator has diffusion filters over their lenses which scatter the light and diffract it to create a sense of blur over the skin. The entire beauty industry that was built upon destroying your confidence to build it back up and that's something I refuse to play a part in.
Often children will emulate negative patterns when they see a parent insecure. Our children look at us and say, "Oh, Mommy doesn't like her belly. Well, now I don't like my belly." I remember a time my daughter was four years old, she had on the cutest little baby crop top that she kept pulling down. This moment is vivid in my memory, she looked at me and she said, "I don't like my tummy, Mommy."
My heart shattered like it has never shattered before because a four-year-old doesn't learn this from watching TV. They learn it from watching their mothers tear themselves apart.
That was my motivation to change. I wasn't intrinsically motivated to change for myself. I made a pact to change the way that I communicated about my body to everybody else in the world, and most importantly to my daughter.
Why does the way you speak about yourself matter – even when it comes to jokes?
Self-deprecating humor always got me through things, but it's also part of what kept me down. I love laughing. There is nothing better to me than a belly laugh that makes you almost pee your pants. For years, I was the subject of the joke.
Now, I made myself the subject of the joke. The only way that I felt comfortable interacting in a room of people was if I could make them laugh, because how could they like me for just me? How could they like me for my fat face, my scars, my chin hair from hormones? So, I make fun of those things first so that way, they couldn't do it.
I controlled the narrative and then I began to believe myself.
What are some body image safe social media practices?
Create an emotional bubble for yourself.
Pick who you scroll on Instagram. Pick what you watch on TV. Choose how you see the things online and relate them to yourself. Remind yourself that there are diffusion filters that most professional cinematographers use.
Lastly, share your life-changing Ah – Moment. During a George Floyd march in Albany NY… what happened?
2020 was an extremely volatile and explosive year for race relations in our country. After George Floyd was murdered at the hands of police, rallys for Black Lives Matter began popping up all over the United States. The one in Albany was particularly destructive to local businesses. As local business owners a few cities over in Troy planned for an 11,000 person March, many of us made the decision to board up our storefronts and paint the boards with words of support.
To me it was a beautiful act of community solidarity. My Muse, Destini, an elegant, intelligent, and powerful Black woman went around town with me to memorialize the art.
As we were taking pictures, a local business owner passed by and I asked if he wanted to jump into a few shots with Destini.
That exact moment in time my perspective and place as I saw myself as a white woman shifted. He said "You see art, I see people afraid of me, we are not having the same experience."
I put my camera down to discuss, with Destini, her perspective on what transpired. Initially she saw the art like I did, until the shift in perspective was brought to her too. "These painted boards are here to protect you from me?"
Together we decided no more photographs in front of the boarded storefronts. We grabbed my gear to head back to the studio, as we did, we passed the police station, barricaded from its own citizens it is designed to protect.
I asked Destini if we should try one more photo. She bravely jumped on the barricade and placed her fist with Black Power into the air.
This moment captured is my most powerful photo. It sits on my living room mantle as a reminder of my privilege and the strength that occurs when women listen to each other and raise each other up.
What last words of wisdom do you want to leave people with – today?
It is my life's purpose to share the message of radical self-acceptance with as many humans as I can.
Where can people find you?
My website is www.Bodyimageactivist.com or on Instagram @bodyimageactivist. I am also on episode 2 of Looking Good with Daniella & T. Coffee – tune in. Find the episode at ww.daniella.today.
—
About Daniella

Fashion and Lifestyle Creative Connoisseur, Daniella Platt hosts Looking Good with Daniella & T. Coffee TV — join us! It's on the ezway.tv.
A #1 best-selling author of Looking Good, a Playbook with 3 Ways Anyone Can Have A Fashion Line & Be A Sales Rockstar, Daniella is also the Designer of JUNGLE accessories, & creates merch for all so you can take your art and message to the world – no inventory needed. She loves creativity, art, self-expression, your story, and with 2 decades of fashion and media, from NY to LA, she's a known apparel industry marketing expert consultant. Get the free goodies, enter to win contests, visit her show, and connect with her at www.daniella.today
— Affiliate partners —